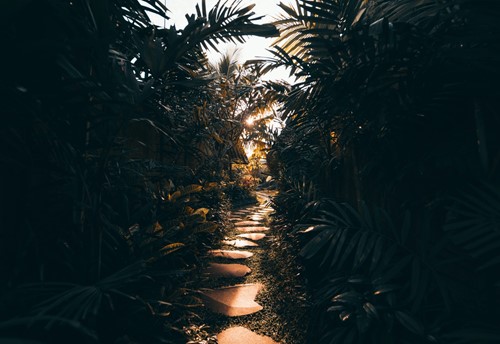 Without hardscape elements, a homeowner's landscape would resemble an endless field. Perennial flowers, trees and native grasses add natural beauty, but patios, walkways and gazebos define the grounds as an outdoor living space. With an increased number of hardscape materials available at retail outlets, however, choosing the right products proves challenging.
That's largely why homeowners may want to consider simplifying the methods they employ to make hardscape material decisions. By thinking about popular products regarding aesthetic value, longevity, maintenance and cost, it may be easier to select the best hardscape material to upgrade your property.
What homeowners need to know about popular materials
It's essential to distinguish a hardscape material from the softscape elements of your backyard. Softscape items are typically defined as plant life and naturally growing items. Hardscapes, by contrast, are manufactured or non-living materials used for landscaping and construction. These rank among the popular materials:
Brick: This centuries-old material can be deployed to create walkways, patios, raised garden beds and outdoor kitchens. Today's brick products come in a range of colors, hardness and heat-resistance ratings. DIY homeowners enjoy the low cost associated with brick-and-mortar installations and the fact they rarely require maintenance.
Composite Materials: Natural wood decking materials sometimes task homeowners with ongoing maintenance and upkeep. Aside from pressure-treated wood, other lumber products can decay and fall prey to insect infestations. By contrast, composite decking minimizes upkeep, deters pests, reduces maintenance and lasts upwards of 30 years.
Concrete: Today's concrete materials have evolved to include color, texture and can be integrated with decorative elements. Property owners routinely embed items such as seashells to create stylized hardscape designs. Concrete slabs and pavers typically last for decades without significant maintenance or upkeep. They also rank among cost-effective materials DIYers can install themselves.
Stone: Flagstone and cobblestone remain attractive materials for building outdoor patios and courtyards, among others. These materials sometimes prove labor-intensive for DIY homeowners, since flagstone typically requires highly precise installation. The rustic appearance delivers significant aesthetic value. Plus, stone does not need maintenance and care. Property owners may find themselves eliminating occasional grass cropping up in cracks. But the lifelong reliability of stone materials generally makes them worth the investment.
Wood: Natural lumber delivers a classic ambiance few other hardscape materials can rival. Pressure-treated wood ranks among the most popular for building decks, fences, gazebos and other structures. It also requires little maintenance compared to cedar, oak and other natural wood materials that generally decay. Relatively inexpensive pressure- or chemically-treated materials can be stained or painted to suit after drying for approximately one year.
Choosing hardscape material requires due diligence and thoughtful consideration. By looking beyond upfront costs to maintenance, such as longevity, upkeep, and aesthetic value, property owners can make informed decisions about the peaceful enjoyment of their outdoor living spaces.