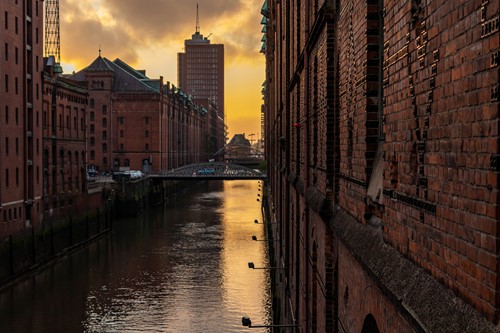 Photo by Karsten Bergmann via Pixabay
Take a tour through the United Kingdom, Germany, Belgium or Holland, and you'll see beautiful historic homes with painted brick exteriors. Wander down streets of hundreds-of-years-old houses, and the most memorable ones are those with painted brick exteriors. But if your brick is in perfect condition, why would you paint it?
Odd-Colored Brick
Some eras produced color variations in brick that detract from the architectural details of a building. When overly pale or harsh bricks detract from a beautiful porch, craftsman detailing or outstanding woodwork, painting your brick can give your home instant curb appeal and new life. Paint your brick with a quality masonry paint for lasting European elegance. Spraying gives the most even coverage to brick surfaces.
Highly-Textured Brick
The 70s gave us bell-bottoms, embroidered shirts and ugly brick. Adding texture to bricks, while popular at that time, gave some home exteriors the appearance of crawling worms and others a rough and stark industrial uniformity. If either of these is the case with your home, you can smooth out some of the texture by using elastomeric masonry paint. Up to ten times the thickness of regular exterior paints, this watertight substance fills in cracks and smooths out some of the roughness of excessive texture. That being said, for best results and to avoid lumps and bubbles, hire a professional painting contractor with experience applying elastomeric paints.
Uneven or Colored Mortar
Another reason to paint is when the mortar used on your brick home is distractingly uneven. To smooth out some of the unevenness and give your home Old World charm, consider the German Schmear method. Also referred to as German "smear," this method mimics the centuries-old plaster and white-wash techniques of yesteryear. To achieve the look, wet mortar is smeared or scraped over the existing brick and mortar. You can cover all the brick and mortar, or just portions of it for a historic exposed brick and limewash look. However, a similar effect is achievable using a prepared limewash specifically developed for exterior applications from your home improvement or professional paint store.
Before You Paint Your Brick
Proper preparation is necessary to achieve superior results. Follow this all-important list or you may end up redoing the outside of your home sooner than you expect.
Wash the brick. Use a stiff-bristled brush or pressure washer (set on low) to remove any dirt or grime buildup on the brick.
Scrape off any moss or mold and treat the brick with undiluted distilled white vinegar or a mold removal preparation available from your DIY retailer.
Repair any deep cracks, broken or chipped mortar or missing bricks.
Your paint store can advise you on what works best in your situation and your climate. Painting your home's brick gives it appeal to a whole different segment of homebuyers, so talk to your real estate professional about plans to paint it before putting your house on the market.